The new biofilm of Jimi Hendrix 'All Is By My Side' has been on the receiving end of some controversy. The film stars Andre 3000 (of Outkast fame) as the legendary Jimi Hendrix, and while the film initially had some buzz about it, it quickly died down once it was
revealed
that no actual music from Jimi Hendrix will be used in the film (not even as a cover version). The producers say that this is due to the film being made about Jimi's pre-fame era.
However, a film about a legendary musician without a hint of his music misses the point. It's like showing how Pink Floyd were created without showing off their most famous material, or even before David Gilmour joined the band.
The film also shows some
violence
against women, particularly in the character of Kathy Etchingham, who was Jimi's girlfriend. According the article, he never did beat her as shown in the film, as told by his biographer Charles Cross.
What we are left with is an origin story, much like all these famous Hollywood superhero movies being churned out yearly. While that is nothing too major to pick upon, but if you want to watch a movie about Hendrix, you expect to see him at full glory, concerts and Strat-burning and all, not just the periods before and at the end and missing the meat of what Jimi contributed to the music world.
Years ago, the movie 'Cadillac Records' was released, loosely portraying the real Chess Records of Chicago's blues fame. While they used the same names of the musicians like Muddy Waters, Chuck Berry, Howlin' Wolf etc, it was not 100% accurate, yet it was able to give us the lasting legacy. Using the real music from that day by those musicians adds to the realism and immersion.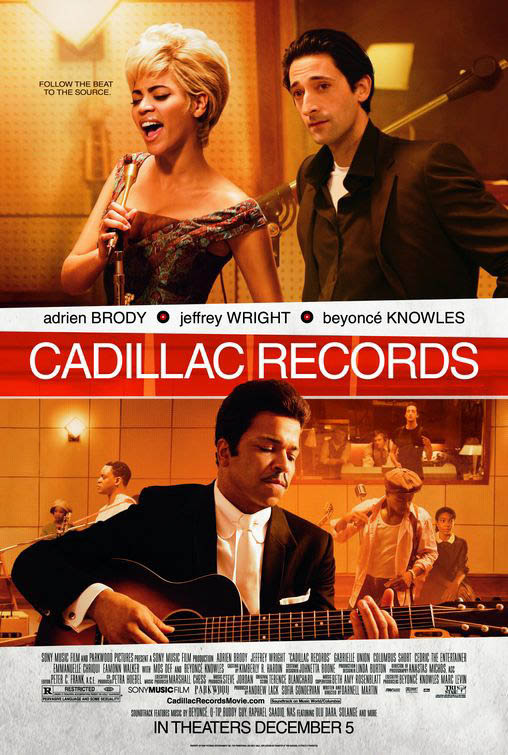 Cadillac Records wasn't accurate, but it told the story very well.
The 2000 movie 'Hendrix', acted by Wood Harris, might not have been the best film and had a much lower budget, but it gave us the full round story including the infamous Monterrey performance.
When doing a biofilm, especially about a highly revered artist or cultural icon, you have to expect that the fans, not the critics, are final line in deciding the film's rating. Much like other icons like Kurt Cobain, Bob Marley, etc, the directors and producers will be held to close scrutiny.
Respecting an artist's legacy and their contribution is something that is held sacred by the fans, and if movie makers can't uphold this sanctity, the end result will always be negative.
The film opens June 13 in the UK.