Today in 1913, blues piano legend Joseph "Pinetop" Perkins was born in Mississippi.
In the 50's he released a very well known (and now standard) song called "Pinetop's Boogie Woogie" and started touring and recording with Earl Hooker.
Pinetop is mostly known for being in Muddy Waters' blues band, replacing
Otis Spann
in 1969 and stayed on until Muddy's death in 1983.
From then on, he was a lead member of The Legendary Blues Band featuring other members of Muddy's band, Willie "Big Eyes" Smith, Calvin Jones, and Jerry Portnoy, during these years, and his debut album was released in 1988.
With a healthy and contant dose of albums and liver performances, Pinetop is
the oldest-ever Grammy winner
a
t the age of 97, winning the
award
for
Best Traditional Blues Album
for the 2011 album "
Joined at the Hip"
, which he recorded with
Willie "Big Eyes" Smith
. He also received a Grammy Lifetime
Achievement
Award in 2005.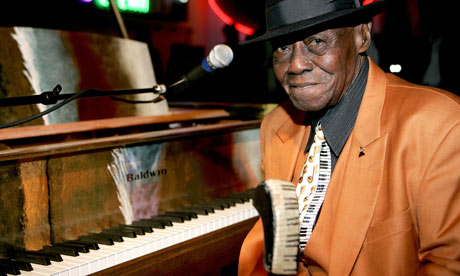 The later years...
He died a month after his Grammy win in 2011; we wish him a happy birthday; for he is a true pillar of the blues and of music in general.
Here's his blues standard calle "Pinetop's Boogie Woogie":