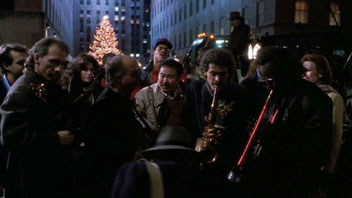 I didn't know about this until now and by accident.
This movie from the 80's starred Bill Murray (one of my favorite actors) in a modern world version of "A Christmas Carol" by Charles Dickens.
In one section of the movie Bill runs into a bunch of musicians, and one of them just happens to be Miles Davis! Of course the last time I saw this movie was when I was a kid so I didn't even know who he was. But it's still cool to come across this after all this time!
The video is unavailable but there's the track, which is a cover of "We Three Kings of the Orient", a Christmas Carol by Miles Davis, Larry Carlton, David Sanborn & Paul Shaffer.