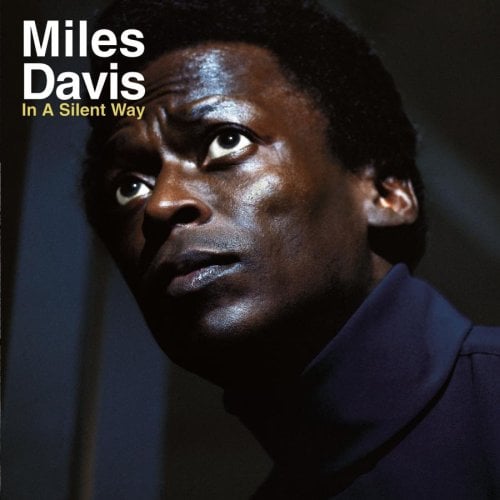 It took me many listens over the last month to write this review. This is not an album that can be easily defined.
In 1969, Miles Davis entered the studio and recorded this controversial album; indeed... back then everyone hated on "In a Silent Way".
It's not a jazz record... it's not a rock record... what the heck is it?!
Put simply, this is the first album released by "electric" Miles. His next album "Bitches Brew" would break all sonic grounds and was the foundation for jazz-fusion. However "In a Silent Way" was the precursor to it.
It's got John McLaughlin on electric guitar; Chick Corea & Herbie Hancock on electric piano, and Joe Zawinul on organ. This already is a recipe for outrage... how could one of jazz's lead authorities break the tradition of acoustic instruments?
"In a Silent Way" is perhaps the first fusion album to be recorded.
And what goes on in the album is the "less is more" concept. Very spaced out, with repeated vamps (riffs) going for what seem to be forever... even McLaughlin, who is known for his high speed and intricate guitar solos, is playing loose lines and chords. Herbie and Chick just play chops and chords so gently into an unknown infinity. Tony Williams (drums) almost plays the same double time for the entire two track album with minor changes or fills (that's almost 40 minutes of music!) Dave Holland (bass) also plays too minimal... for the first 10 minutes of the first track he basically plays the same two notes.
Miles enters in between; cool and subdued. Nothing extreme... nothing as I dare say "impressive".
But the space ... the vamps... the mood! I can't put my finger on it but I have come to the conclusion that "In a Silent Way" is an ambient music album, to be heard in a background unlike other jazz albums where you want to pay attention.
It took me a while to understand it; but now that I do ... I can't stop humming the theme (if that's the right term) of the second track.
Tracklisting:
1. Shhh/Peaceful
2. In a Silent Way/It's About That Time (written by Zawinul)
Here's track 2 for you guys: